SocialApps.tech wishes you Merry Christmas with 25% Discount On Everything!
Christmas is almost here and we, in SocialApps.tech are preparing to spend this festive time with joy in our hearts! We are sending you much love this Christmas season, and hope that your holidays will be filled with plenty of warmth, love, cheer, and happiness.
To make your celebrations more special, we are offering a flat discount of 25% on everything from 24th December 2020 to 5th January 2021.
Mobile Apps | Plugins | Themes | Packages | Product-Kits | Subscriptions | Services
Avail this offer with the Coupon Code: HOLS2020 on the order checkout page.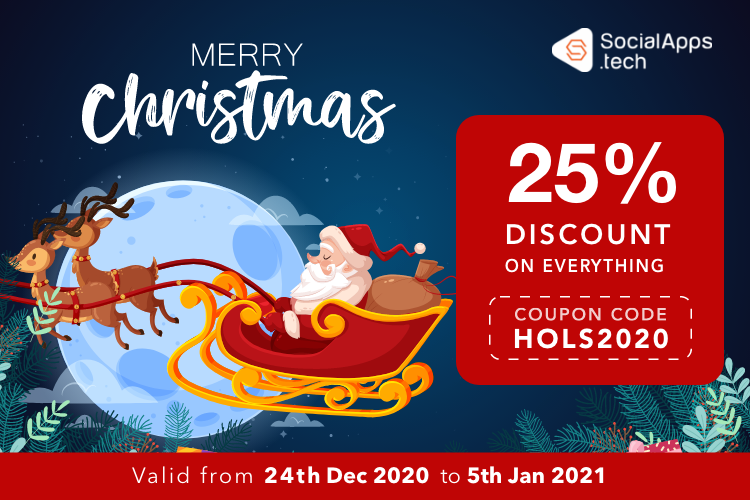 Our team will be on holiday on 25th December 2020 for Christmas Celebration. So, please plan accordingly as there might be a slight delay in our support and email responses.
Glimpse of Our Recent Releases
Connect with Us!!!
SocialEngine has also introduced a section within their community for establishing a better connection between the experts and clients. We request you to please join SocialApps.tech group (after signing up) to stay up-to-date with the upcoming releases, exciting events and offers. Please contact us in case of any queries.
Got any queries? Please feel free to contact us.