Video on Demand - Fast & Adaptive Video Playing
Enables your website to loads videos on-demand basis and specific to the device sizes avoiding unnecessary loading of all the videos on initial page load. Speed-up your website page loading and improves overall website performance.
Normally, videos start loading with the initial page loading in SocialEngine based websites while Video On Demand Service allows you to avoid this unnecessary loading of videos which are not played or accessed by a user. It also allows the users to view the video specific to their device, which saves their time and bandwidth data. This would result in an increased overall website speed followed by better SEO and improved user-experience.
The videos on your website can be accessed by your users at any time on any device whether they are using a web browser, smartphone, tablet, or smart TV. Videos will load adaptively according to that particular screen size and regardless of the device being used, your viewers will experience a broadcast-quality video with fast loading each time they play videos.
Why Should You Opt For Video On Demand Service?
Faster Page Speed: Webpages are loaded fast as loading of unnecessary videos is avoided
Supports All Formats: Videos of all formats like mp4, flv etc., are supported
Optimizes Your Mobile Apps: Not only desktop site loads faster, but your mobile apps too become quicker

Preserves Video Quality: Videos are loaded faster but there is not any degradation in their quality
Improved SEO Ranking: Faster webpages leads to improved SEO ranking
Great User Experience: Faster webpages & videos provide great user experience
Benefits You Will Get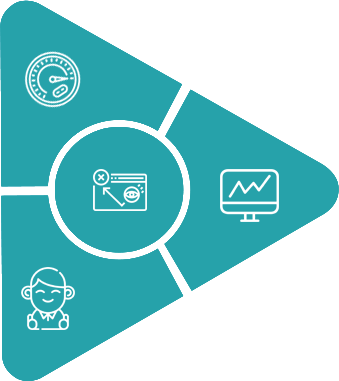 Happy & More Users
Fast video streaming through Video on Demand will result in more engaged users on your SocialEngine Websites.
Move Upper In Search Results
Website speed is an important SEO ranking factor as per Google so, if your website speed is improved, your website also moves upper in Google ranking list.
Weak Connectivity - No longer An Issue
Even if you are in a low internet connectivity area, you can still play videos. Videos are played in a lower quality format in case of weak internet connection rather than not playing at all. Videos of upto 2GB can be played without any interruption in mobile devices.
Reduced User Bounce Rate
50% of the users love sites which load in less than 2 seconds while 40% of visitors tend to leave a site if it takes more than 3 seconds to load, thus increasing the bounce rate. You can significantly reduce this bounce rate with Video On Demand feature.
Details Required
We will require the below credentials from you to proceed with the configuration of Video On Demand setup on your website. Please send these to us via a Support Ticket from your SocialApps.tech Client Area after purchasing this service:
Your Website Details

URL
Admin Email
Admin Password
Note
Advanced Videos / Channels / Playlists Plugin: This plugin must be enabled on your website in order to successfully run this service on the website. Our Video On Demand Script is designed to work in integration with this plugin.
It would take us 7 working days to configure this service for your website.
For more information on our service offerings, contact us
Will this feature work for all the videos on my site?
No, only the videos which are uploaded using "My Computer" option will be played on demand basis. Other videos will play normally with initial page load.
Will this feature work for newly uploaded videos or for existing videos?
As the videos are processed at the time of their storage, so, the service will work for only newly uploaded videos.
Will this Video On Demand feature work with all the plugins on my site?
I want Video On Demand feature to work with all plugins of my website?
Yes, this is possible by code customization to make this feature working with other plugins of your website. You may contact us with your requirements.
I want to know more about this service offerings? Can you help me?
If you need more information or have any query, please contact us.